Author Interaction
The author, John Green, met Esther Grace Earl, a 16 year old with terminal thyroid cancer at a Harry Potter convention. Through his friendship with her, his latest best-seller, The Fault in Our Stars was written,the main character named after, and the book dedicated to her memory.
Authors such as John Green often develop relationships with their readers and recognize them as people instead of a means to a paycheck.
It makes me ask the surface question:
How much interaction should the modern author have with the reader?
What constitutes too little or too much?
In a "one click away" social media culture, we can connect with anyone, anywhere, at any time. Once we initiate communication, we want to be acknowledged. After almost every review, I post about it on Twitter acknowledging my thoughts regarding their books and I get that warm, fuzzy feeling when an author responds back positively.
Here's the real question:
What does the modern reader want from the authors whose books they read and love?
Readers want another story with which they can fall in love.
We, as readers, seek out authors because we want to know more about them and any other books they have written. We want to pursue them further to find a connection with them.
How have you connected with an author? I would love to hear them!
I never used to like free-verse written books until I received the ARC, Freakboy by Ellen Hopkin's protegee, Kristin Elizabeth Clark. The way she weaves her stories into different shapes on a page evokes depth and meaning more so than just words on a piece of paper.They're a style of telling a story.
Despite being written in poetry, verse novels are quite appealing to more reluctant or busy readers because they're less intimidating to look at visually and because they read fairly quickly.Anyone who picks up an Ellen Hopkin's book can see her books are built on a visual layer in addition to the language used in the story.

Since novels written in verse are constructed with a format and style in mind, rather than a genre, they can range from more recent, contemporary stories to historical, and they can include mysteries, fantasy, science fiction, or anything your heart desires, really. Non-fiction can be written in verse, as well. If you're looking for YA non fiction check out Margarita Engle.



Here are some of my favorite free verse novels: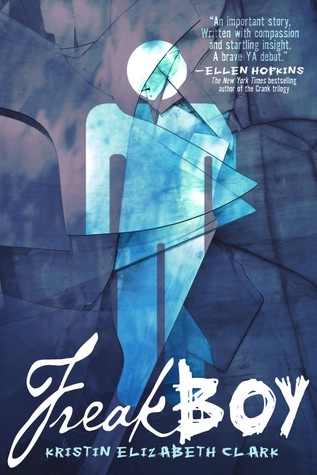 I can't wait to read some of your favorite books!