We all want it. That glowing, organic look sans makeup. That's the beauty of natural beauty. We make the rules and find out what works for our own body. Go read these books, try something new, your skin will thank you :)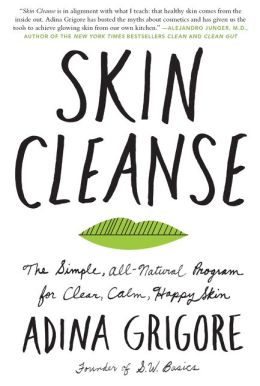 PD: 02.17.15 by Harper Collins Publishing
Breakouts. Dryness. Redness. Oiliness.
If you're like most women, you've been on a never-ending quest for perfect skin—or even just good skin—since adolescence. It's a frustrating pursuit to say the least, filled with one disappointing (and expensive) miracle solution after another. Why is it so hard to get good skin?
Adina Grigore, founder of the organic skincare line S.W. Basics, would argue that getting clear, calm, happy skin is about much more than products and peels. Or, rather, it's about much less. In Skin Cleanse, she guides readers through a holistic program designed to heal skin from the inside out.
We tend to think of our skin as a separate entity from the rest our bodies when in fact it is our largest organ. The state of our skin is a direct reflection of what our bodies look like on the inside. So Adina's program begins as any healthy regime should: with the basics for full-body health. That means eating plenty of fresh, whole foods; drinking more water; getting blood pumping and oxygen flowing to your cells through movement; and giving your skin a chance to repair and regenerate by resting.
From there, readers are challenged to a skin cleanse that requires going product-free for twenty-four hours. Once detoxed, Adina then shows us how to overhaul our beauty routine, how to carefully add some products back in, and even how to make our own products at home, with advice and targeted solutions for specific skin conditions such as acne, dry skin, oily skin, and more.The secret to beautiful, stress-free skin is simple: it's an inside job.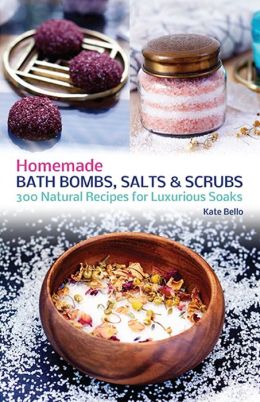 Homemade Bath Bombs, Salts, and Scrubs
PD: 05.12.15 by Ulysses Press
Soothe stress, heal the body, and smell fantastic with luxurious homemade bath products
There is nothing better than slipping into a hot bubble bath after a stressful day. But store-bought bath products are chock-full of chemicals, artificial scents, and dyes. This book shows you how to make all-natural bath bombs, scrubs, and salts that will leave your skin glowing and the body relaxed.
Featuring 300 easy-to-make, organic, chemical-free, and plant-based recipes, this book demonstrates how to whip up bath products to meet any need, from healing specific ailments to relieving stress to even curing skin conditions. Including sensual aphrodisiac soaks, calming scented salts, and chakra enhancing bombs, these whimsical and fun projects include everything you need for pampered bathing . Ideas for making adorable bath gifts for friends, including tips for delicious scent combinations and instructions on crafting cute packaging, are also featured.
Natural bath soaks are an ancient beauty remedy that can bring you to a relaxed meditative state while ridding the body of toxins. This is the ultimate guide to taking bathing to the next level.