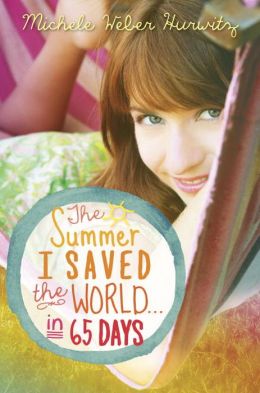 The Summer I Saved The World in..65 Days
PD: 04.08.14 by Wendy Lamb Books
It's summertime, and thirteen-year-old Nina Ross is feeling kind of lost. Her beloved grandma died last year; her parents work all the time; her brother's busy; and her best friend is into clothes, makeup, and boys. While Nina doesn't know what "her thing" is yet, it's definitely not shopping and makeup. And it's not boys, either. Though . . . has Eli, the boy next door, always been so cute?
This summer, Nina decides to change things. She hatches a plan. There are sixty-five days of summer. Every day, she'll anonymously do one small but remarkable good thing for someone in her neighborhood, and find out: does doing good actually make a difference? Along the way, she discovers that her neighborhood, and her family, are full of surprises and secrets.
In this bighearted, sweetly romantic novel, things may not turn out exactly as Nina expects. They might be better.
I hardly watch the news anymore. In my opinion, it's mostly depressing: crappy economy... oil spills...people dying...war
...good luck! I need something I can hold onto such as a cat saved from a tree or SOMETHING UPLIFTING!
And then something like this book comes along to give me hope that people can do things to make other people feel better.
I'm really excited to see how Nina's plan betters her community.
Here's websites that provide something uplifting and restores faith in the world:
What Happened to All the Laughter
Invest in Girls and Women