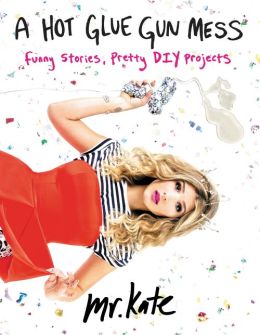 PD: 06.16.15 by Harper Collins
From the hugely popular lifestyle blogger, YouTube star, and designer Mr. Kate (Kate Albrecht), a beautiful collection of step-by-step personal style and home projects—woven in with quirkily hilarious stories and anecdotes.
Do you dream of finding ways to infuse do-it-yourself projects into every aspect of your life and have fun doing it? From the quirky personality behind the Mr. Kate brand comes a not-so-average DIY lifestyle book that will make your dreams of creating unique how-to projects become reality.
Filled with 50 unique and approachable projects, along with hysterical, unfiltered stories from Mr. Kate's crazy life, A Hot Glue Gun Mess will show how life can inspire art. Growing up with a high-powered Hollywood father and an oddball, down-to-earth mother, Kate Albrecht had a childhood that was anything but normal. From how her first period influenced her to become an artist to how her friendship with a high-priced hooker encouraged DIY beauty products, Mr. Kate's stories are weird, wonderful, personal, inspiring, and downright hilarious.
Her love of self-expression inspired Mr. Kate to create her own DIY life and a social media platform to connect with young women everywhere. Her projects involve style, home design, and beauty, including DIY nail art techniques, upcycled projects for your old jeans , and watercolor curtains. You don't have to be a seamstress, metalsmith, or expert at anything to enjoy these projects, all of which are doable in under two hours and require a minimal number of supplies. Now you, too, can become a DIY diva!
I recently picked up a pre-primed, solid oak table and painted it a fire engine red all for under 45 bucks! This new power I feel from knowing I can take something new and up-cycle it to reflect my personal tastes has me in a empowered, I am "Rosie-the-Riveter DIY fantatic! Damn you gorgeous Pinterest and book ideas, you have created a monster!
CHECK OUT MY POST BELOW AS WELL :) PLEASE COMMENT AND CHECK OUT SIDE BUTTON :)